As always there is part two.
I Have finished 3 household products. I think I have a review for 2 of them already in previous posts.
MINI RISK, White Laundry detergent, 750g
.
Mini Risk washing powder White for washing white clothes at any water temperature.

Suitable for sensitive, allergic skin, asthmatics and infants.

The concentrate is developed in cooperation with the Finnish Association of Allergy and Asthma and does not contain colorants and fragrances;

dermatologically tested.
Components.

<5% non-ionic surfactants, cationic surfactants, fragrance composition (Benzyl Alcohol, Benzyl Salicylate, Butylphenyl Methylpropional), Benzisothiazolinone
Keep out of the reach of children.
Brand: Silan
The product name is legally regulated: A concentrated liquid for fabric softening.
Storage: Shelf life: 24 months from the date of production stated on the packaging.
Package type: Plastic bottle
Manufacturer's address: Henkel Wasch- und Reinigungsmittel GmbH
Henkelstrasse 67
40191 Düsseldorf
Germany
Return address: Henkel Polska Sp. z o
. o . Domaniewska 41
02-672 Warsaw
tel. 22 56 56 000
Information for users and medical staff:
tel. 32 412 01 00
Information on how to deal with an accident:
tel. 12 411 99 99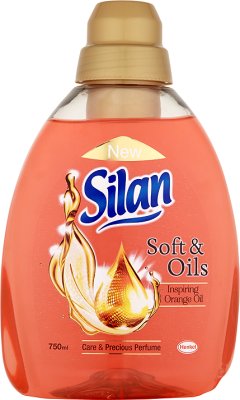 Domestos 24H Citrus Fresh toilet cleaner 650 + 100 ml
. I like when my WC bowl smells and looks nice. I do use stuff like that daily, mostly in the evenings before going to sleep. Then the person who goes to WC first in the morning brushes and flushes the toilet. I bought it because it was on sale for 2.46 Euros. Regular price is somewhere near 5 Euros. Basically, I buy the cheapest product available in my store, as I think it is still money flushed down.
Concentrated cleaning and disinfecting liquid, Domestos 24H, with a citrus scent, effectively disinfects, killing all kinds of bacteria viruses and fungi.

The new, more dense Domestos adheres to the surface of the toilet to kill bacteria even after rinsing.

Used daily, it prevents bacterial sprays when flushing water in the toilet, ensuring the safety of the whole family.