I had two deep freeze potato pancakes left in the freezer. I had an intention to cook them as breakfast, but I always forgot about them.
So, today I am having a day off work and decided to make a small pre-lunch for myself.
I baked cooked them on slightly greased grill pan for 5-6 minutes. Topped with sour cream and sprinkled with premade cooked onion.
I used these deep freeze pancakes.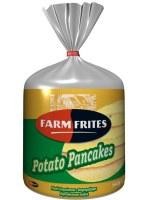 Yo do not have to use deep freeze pancakes, you can make them yourself. You can grate your own potatoes, add egg, salt and pepper. Or you can buy already ready made potato pancake mix. Ingredients for ready made mixture are below.
Bruce's Sweet Potato Pancake Mix - 1.5 lb by Bruce Foods Corporation
Old El Paso Mexican Cool Soured Cream Topping Squeezy, 230g
Morrisons Onion Granules, 42g