Disposable cotton pads today have become downright indispensable face care products. With their help, you can easily and quickly cleanse the skin of makeup and even apply the necessary care products.
Cotton pads Aura from trademark Cotton Club are made from 100% natural cotton fibers which are pressed together reliably to ensure product durability and usability.
The round shape of the discs and their optimal surface area allows the application of the required amount of cosmetic product without any problems. You can be sure that quality products will not disintegrate during use and will demonstrate high efficiency. Removing makeup, cleansing your skin, and refreshing your face with tonic will become much easier and more pleasant with Cotton Club Aura cotton pads, which do not cause allergies and irritation.
How to use: Take the disc out of the package, apply a cleanser to it, and wipe your face.
Material: 100% cotton
Weight: 180 g / m2
Package contents: 150 pieces
Usage: disposable makeup remover product
Weight: 58 g
Dimensions: 31 x 6 x 6 cm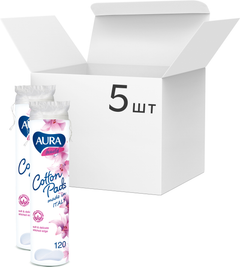 Cotton Club Aura 120 cotton pads + 30pcs, 4751023290775