Conditioner for cut flowers in the form of a powder for a solution in water. The preparation is intended to extend the life of cut flowers. It makes the flowers stand in the vase much longer, and at the same time, they look healthy and fresh. The water in the vase remains crystal clear for a long time. Thanks to the conditioner, the water remains clean for a week, so it does not need to be changed every day. The conditioner is perfect for home use (for all cut flowers in vases), as well as for use in specialized floristic points.
Cut flower conditioner contains nutrients that visibly extend the life of cut flowers and improve their condition. Once collected, the flowers stay fresh longer and store water better, which allows them to be transported more easily from the place of purchase. Conditioner ingredients inhibit the formation of bacteria that contribute to water spoilage, and at the same time prevent plant rotting caused by these bacteria.
Use:
Cut flowers before placing them in water to cut about 2 cm at the base at an angle. Straight-cut flower shoots have difficult water uptake. Use the conditioner once a week after diluting with water. One sachet (5 g) of the conditioner is enough for 1/2 liter of water. Place the cut flowers in the solution thus obtained.
1 sachet contains 5 g of the agent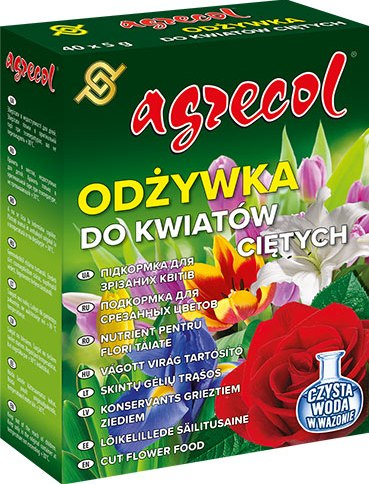 AGRECOL Fertilizer mineral for the cut flowers of 1х5 g 5902341004158