4.2l Hega defrosting container with drainer and lid, assorted colors
BENEFITS
You will take care of dry countertops and the interior of the refrigerator while defrosting

The defrosted products will retain their freshness and smell

You will gain lasting help in preparing the dishes
A container with a grid and a closure prevents the leakage of water from the defrosted products

The lid protects the meat or vegetables from drying out and the penetration of odors

Made of high-quality plastic ensures long-term durability
Hega 4,2 l defrosting container with drainer and lid, assorted colors - box with lid and plastic drainer
The defrosting container with a drainer and a lid 4.2l Hega mix of colors will allow you to take care of dry countertops and shelves in the refrigerator. The large capacity, rectangular shape, the grate on the legs inside, and the lid prevent water from leaking out of defrosted fruit or fish. Nothing will spill out when you move it.

The lid also protects the contents against contamination, insects (even in summer) or drying out, and the penetration of smells from other products in the refrigerator. The defrosted products will retain their freshness and smell. The drip tray also prevents them from lying in the water.

The box is made of high-quality plastic, so you can be sure that it is suitable for food and is resistant to low temperatures. You will gain lasting help in preparing your meals. After removing the grate, you can also use the container for classic storage of cheese, cold cuts, cakes, or vegetables. You can wash it in the dishwasher. The product is mixed and shipped randomly.
Mark

Hega

EAN

8429429160294

Number of items

3

Elements of the set

- container




- grate




- lid




Height (cm)

9




Length (cm)

36




Width (cm)

24




Material

Plastic




Colour

mix




blue




pink




green




Attributes

microwave




safe dishwasher safe




suitable for the freezer




suitable for the refrigerator




Capacity (l)

4.2




Capacity (ml)

4200




Other information

- made in Spain




- high-quality plastic




- intended for contact with food




- resistant to temperatures from -18 degrees to +90 degrees




- use in a microwave for a maximum of 3 minutes at 400 W




- internal dimensions of the container: 32 x 21 x 7 cm




- grille dimensions: 28.5 x 18 cm




- lids are mixed colors - sent randomly




Net weight (g)

297

Size of the package

36 x 24 x 9

A kind of package

sticker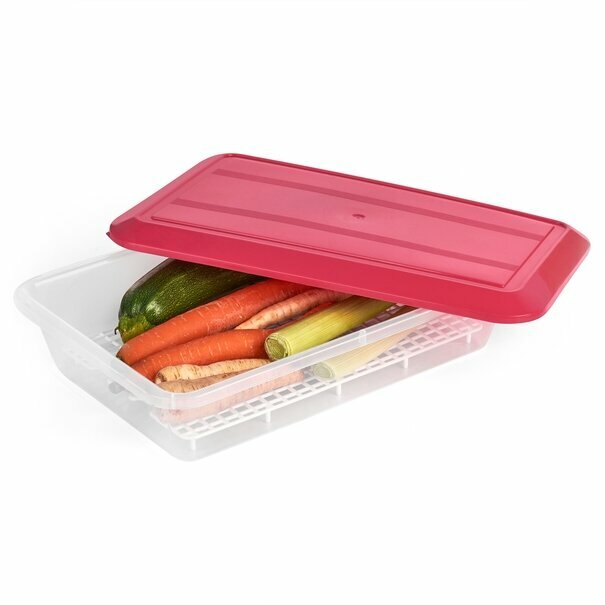 8429429160294