Ooops! premium quality 3-ply toilet paper Classic Lavender 4pcs (140 tears)
Ooops! toilet paper Classic with a lavender scent has a soft pleasant texture, perforated, 4 rolls per pack. Perfectly absorbs moisture and does not contain harmful substances.

Due to the fact that the paper has three layers, it is more durable to use, as it does not stick to the hands and does not get wet. Soft and delicate toilet paper is made using the latest technology "micro-embossing" which gives the paper characteristics that distinguish it among the toilet paper in this price segment.

Has a chamomile scent.

Production: Hungary.

Quantity: 4 rolls per pack.

Composition of goods: 100% cellulose.
Manufacturer Country:
Hungary
Toilet paper type:
Roll on the sleeve
Number of layers:
Multilayer
Number of separations:
140
Tear-off length:
113.0 (mm)
Number of meters per roll:
15.8 (m)
Amount in a package:
4 rolls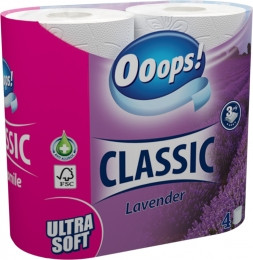 Toilet paper three-layer Ooops! Classic Lavender 140 tear-off 4 rolls, 5998648704242